App Development Course in Chandigarh, Mobile phones or smart phone users are increasing every single day. Many people use more than one smart phone at the same time. There was a time when mobile phones were only used by professionals. However,  today we can see students as well as retired senior citizens having their own smart phones.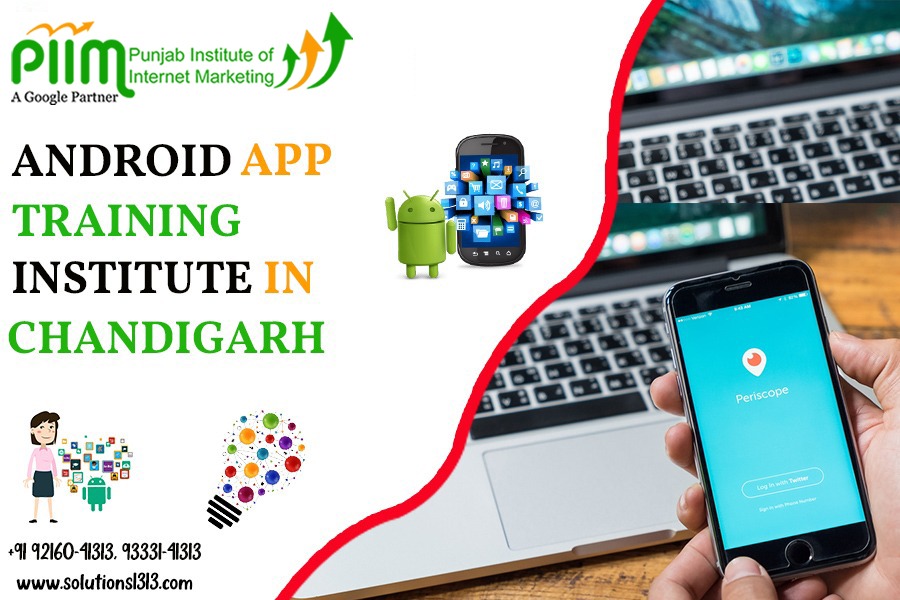 More we have smartphone users; more we have the requirement of applications. Whether an application is pre-installed or we need to install it manually, it has got the same basic definition. A software designed with the help of code that is supposed to carry out it's function after it is successfully installed in a compatible device.
The one who works on such coding is called programmer.
The most common types of smart phones today are Android enabled devices. The operating system installed is Android and the application installed in such devices should be compatible to this operating system. The programmer specialized in this field are called android developer. In order to become an expert programmer, you can apply for some professional Android course in Chandigarh.
Android development course online by PIIM provides the best android application development course for beginners as well as for professionals.
Android development training institute in Chandigarh
Do you want an android app development course with certificate for a good job? Or you are looking for android development best course for beginners to start from basic?
PIIM is the best android training institute in Punjab that will provide you mobile application development course in Punjab that will make you capable to create an app on your own.
There are many types of programming languages involved in the journey to be a professional developer. However, the right way to learn each programming language will not only make the learning simple and long lasting, but will also make you wise enough to fix really big issues that come your way during your mobile app development carrier.
Android Development Training
This institute will train you on how to create an application by yourself with the help of programming. You will learn the art of designing the apps and make them appealing. The teaching that you will receive will be in a simple language. The details and the way of explaining will leave a long lasting image in your mind.
Since PIIM is the best app development company in Chandigarh, therefore you will get chance to work on live projects. You will get an option to choose your desired time slot. You will get an option to choose the days as per your convenience. If you are working person, you can choose to learn during weekends. You can choose to learn during weekdays. Also, there is an option to speed up the learning process and complete the course in lesser number of days.
Online app development course
To be very honest, being a good app developer is not an easy thing. Apart from good android trainer online or offline, you should have proper study material. Other than this, regular practice on what you've learnt is really important. Now, doing this will definitely lead to some technical questions. Android online training by PIIM offers one on one sessions every day to clear all your doubts.
One common problem in any online course for android is that it is hard to deal with the technicalities as both computer as well as mobile screen are important to check. Not an issue! PIIM is the solution here. App Development Course in Chandigarh by PIIM will not only make communication simple, however will also make it possible for you to view everything that is necessary for this course. Wondering how!! Book a demo class and see how things are better than your expectations.
If you are thinking of a mobile app development course online with certificate and want to consider PIIM , then get ready.
⦁ In this advanced level mobile application course, you will become capable to create an app on your own.
⦁ You will not only become expert in coding, but will also be capable to choose and use Software Development Kits with ease.
⦁ You will also learn basic knowledge of core Java as well as SQL.
⦁ Also, you will get a chance to practice and learn from different assignment each day.
So, if you are ready to become a mobile application developer, trainer, engineer, or project manager, then don't waste another day and learn to implement your own code with PIIM.
Android app development course in Chandigarh
Android developer course in Chandigarh by PIIM is not just limited to the theoretical knowledge. PIIM has many clients and many projects. During your learning, you will get opportunity to see how real projects are. Not only this, after you are aware of various technicalities, you will get a chance to work on those projects in the middle of your course.
After you complete this App Development Course in Chandigarh online or offline, you will be eligible to appear for a test for certificate. This test will be based on the syllabus of the course. Once you pass this test, you will become eligible for certificate as well as professional android developer training in Chandigarh by PIIM .
This training is available for both institute as well as for work from home. In this training you will be taking lead of the projects of real clients. You will be creating an application based on their requirements. Be confident! Of course, you will be able to complete the project; no matter what the requirements of the client are. Apart from this, if you want to know some better way to deal with any part of the project, you will always have a mentor by your side.
App Development Course in Chandigarh
After your training is complete, you will be eligible for interview for placement. And guess what!! You will immediately have your first technical job's appointment letter as an android developer. The hiring rate of the students that have studied from PIIM is 99% (India as well as Canada). Also, in case you want to start your own freelancing business, PIIM experts will guide you about how you can start and run your own freelancing business.
What's special about the Demo Class…
In your free demo class, you will get an overview about your course, syllabus and how things are going to be during and after your course. Also, you can expect you have a career counselling if you are planning to start your career in IT industry.