SEO Course in Patiala – PIIM (Punjab Institute of Internet Marketing) provides you the industry-oriented SEO Course in Patiala. SEO is the most effective way to increase the rankings of the website organically. However, there are various SEO Institutes in Patiala that can offer you with the best SEO Training, but if you are looking for the best one, then our SEO Course in Patiala is the top choice for you. Nowadays, companies want to drive traffic to their website and want to increase their business online. Therefore, for this, they need professional Digital Marketing experts or SEO experts that will help them to increase their website traffic and find potential customers to their business.
SEO Course in Patiala. Learn the Secret of Top Ranking in Organic Search
If you are the one who wants to boost your website traffic and want to make your career in Digital Marketing or SEO Industry, then our SEO Training in Patiala can fit all your needs.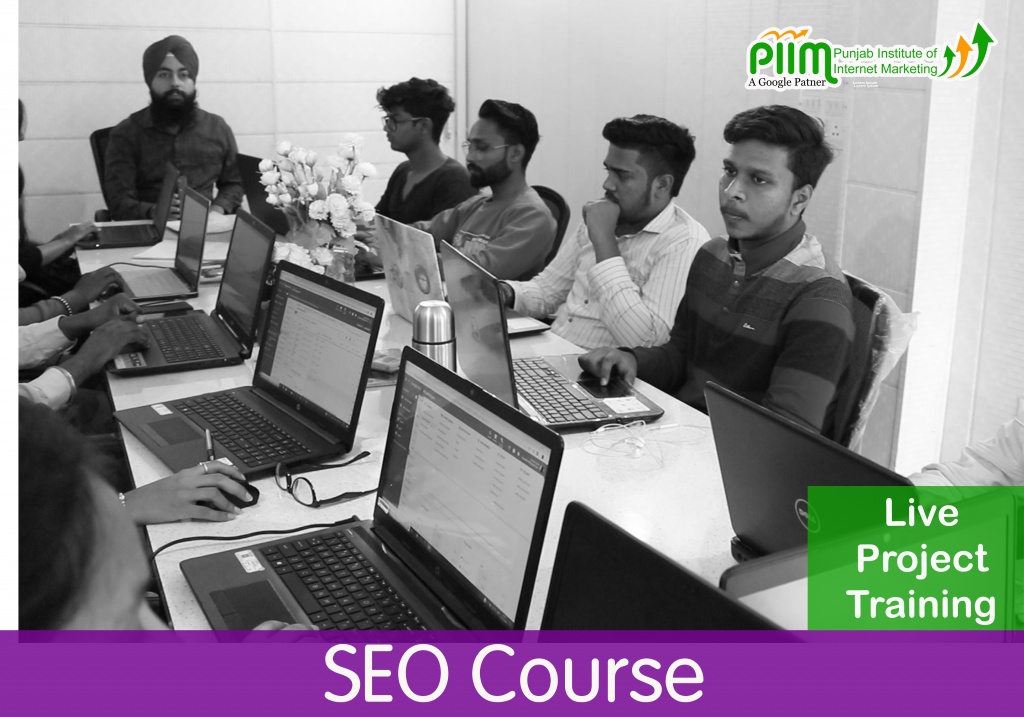 Get the Best SEO Course in Patiala
Join the Best SEO Course in Patiala and learn from the industry experts. Our SEO Training Institute in Patiala offers an advanced SEO strategy that is used by search engines like Google, Bing, and Yahoo to improve the rankings of the website and increase traffic. Actually, there are a lot of benefits if you learn SEO from the reputed institutes like us. We provide you –
100% Live Project Training
Job Placements in leading SEO Companies in the world will be provided
After SEO Training Support
Small Batches and proper attention are given to each student
Get 6 Months of Industrial SEO Training in Patiala –
PIIM being the leading SEO Institute in Patiala offers limited seats for project training. Although, the live project training module of our course can make a huge difference to your profile prospects. Thus, don't settle for the second-best. Choose Winners PIIM (Punjab Institute of Internet Marketing) brings you directly in touch with industry experts.
SEO Syllabus covered by our SEO Institute in Patiala –
Define the fundamentals of SEO
Define Google Algorithms and their types
Content writing and optimization
Title, Meta description and Heading Optimization
URL structure
Sitemap generation
Google webmaster and Google Analytics training
Link Building
Social media promotion and guest blogging
Competitor analysis and reporting
Site Submission, Directory Submission and social bookmarking
What you can do with the 6 months Industrial SEO Course in Patiala?
Study the advanced framework in detail as well as know the latest trends in technology.
Get a chance to learn from Google certified tutors with industry experts.
Here, you will update your skills set to facilitate a smooth as well as an efficient transition from legacy systems over to PHP technologies.
Get Help from Trained Developers with years of experience whenever you face a coding issue.
Quality Training as well as superb infrastructure.
Job opportunity in our company in case if you perform exceptionally.
Why you should join PIIM for SEO Course in Patiala?
Our Entire Training program is based on a live project as well as current industry standards
Training will be conducted on a daily basis or a weekly basis. In addition, we can conduct the classes as per the student's preference.
Able to boost your career in a Digital Marketing industry
6 Month Industrial Training with project certificate
Job Interview preparation
Who can join our SEO Training Institute in Patiala?
Students, Housewives, Entrepreneurs, working professionals or others can join our SEO Training Institute in Patiala. Actually, there is no any specification or degree is required to understand Digital Marketing. Just having a basic knowledge of internet and good communication skills can increase the chances to become an expert in the field. If you have a passion or dedication or want to make your career in Digital Marketing industry or you are a business owner want to use SEO or Digital Marketing to promote your business online then our Digital Marketing Training Institute in Patiala is the one-stop destination for you.
Other Certification Courses-
SEO Course in Patiala
As an Expert SEO Training Company in Patiala, PIIM understand this concept completely and due to that, we have become one of the bestSEO Training Institute in Patiala.
Why Choose Our SEO Course Institute
At our SEO training institute, students will be trained by industry expert faculty, which will teach you as per the latest Google updates. We provide 100% practical knowledge based on live projects to make our students practically and technically stronger and this is the reason why we are considered as the best SEO training institute in Patiala.
Scope of SEO
The scope of SEO is very broad and have a very bright future. According to Times of India, it will create more than 1.5 Lakh jobs in the coming years in India.