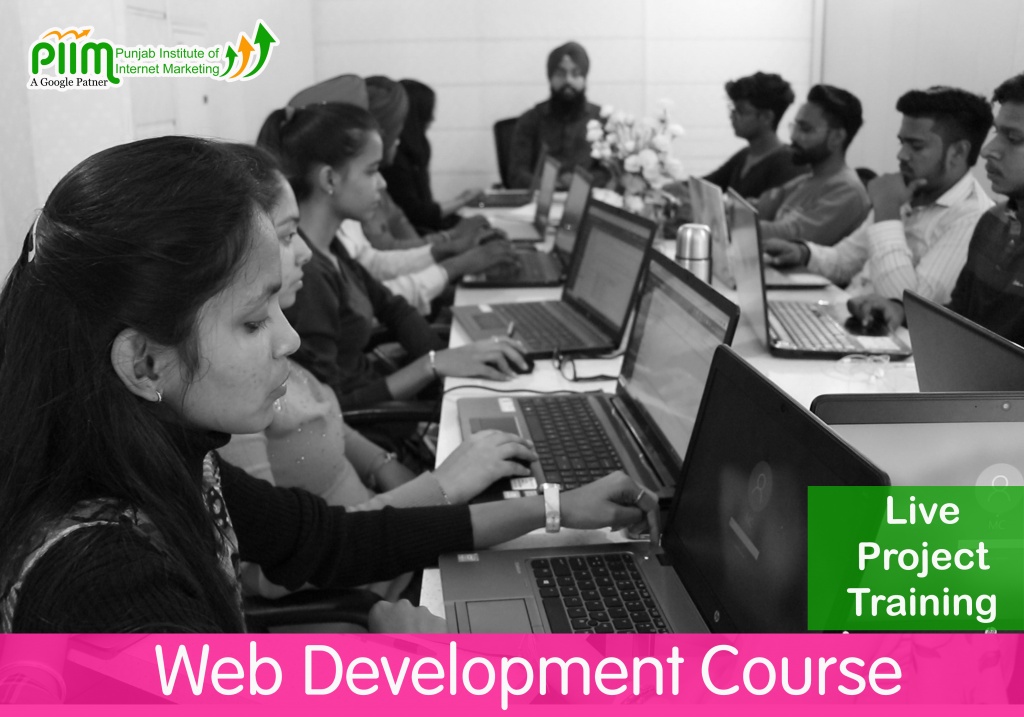 Web Development Course in Patiala – Web Development is everything involved in the making or the development of a website. Basically, it refers to the coding side of the website production as opposed to the web design side. Furthermore, it encompasses everything from a side page of HTML text to complex, feature-rich applications designed to be accessed from various digital devices.  So, Become a Job Ready Programmer Today with PIIM. Get Professional Learning on Live Projects. Web Development Course in Patiala offered by the PIIM (Punjab Institute of Internet Marketing) is the NO. 1 Institute in Punjab there training is designed for all the students who are looking forward to building their career in Web Development.  However, we make sure the gap between the academics, the industry standards, and the demands by learning Website Development Course in Patiala.
Learn Web Development Course in Patiala from an ISO Certified Institute Experts –
PIIM mainly focuses on providing a complete experience to each and every student on all the aspects i.e. Both front-end development as well as backend development. However, you might be an experienced candidate who has just joined to upgrade your skills or you might be a fresher who is just out of the college and is trying to explore all the possible web development tools. We provide you the best Web Development Training in Patiala, Nabha, Rajpura, Samana, Sirhind and other cities near Patiala where you can learn all the basic level website development as well as the advanced development.
Web Development Trainers at PIIM –
Trainers at PIIM are very experienced professionals as well as skilled to conduct web development courses. Furthermore, we help you to build your career by providing you all the required skills which will make you ready as per the industrial standards. We will give you all-round training in both the web designing course in Patiala and the development part of the web in detail. In addition, our training focuses on the whole workflow of creating interactive web applications, communicating to databases, sending and receiving data.
Complete 6 Months Industrial Training – Web Development Course in Patiala
Although, in our 6 Months Industrial Training Web Development Course in Patiala, you will learn HTML, CSS, HTML5, CSS3, jQuery, Photoshop, PHP, WordPress, Illustrator and many more. Moreover, you will be taught the latest and most advanced coding and design techniques available.
The Complete Web Developer Course 2.0 Syllabus –
HTML –
History of the World Wide Web
Fundamentals of HTML
Structure of an HTML Document
Creating HTML Tables and Forms
HTML Formatting Tags
History, Introduction, and Concept of HTML5
New HTML5 Elements
Obsolete Elements in HTML
Image Optimization for the web (Adobe Fireworks) –
Image Optimization Techniques
Introduction as well as advantages of Adobe Fireworks
Basic Features of Adobe Fireworks
Creating GIF Animations
Concept of Image Slicing
Web Authoring Software's (Adobe Dreamweaver) –
Creation of a website using Dreamweaver
Introduction to Dreamweaver and other Authoring Software
Features as well as Controls of Dreamweaver
Cascading Style Sheets (CSS) –
History as well as Basic features of CSS
Cascading Rules
CSS as well as Maintainability
CSS Properties to promote usability
Advanced selectors
CSS Layout Properties
Latest CSS Trends as well as Techniques
Developer Tools to Counter Bugs
Creating a Box layout structure with CSS
JavaScript –
Variables as well as Arrays
Basic Concept of object orientation
JavaScript syntax
Methods
Properties
Controlling Elements with JavaScript
Managing Attributes with JavaScript
Controlling nodes with JavaScript in general
Functions and Event Handlers
Using the Google Map (Ajax)
Bootstrap –
Introduction to Bootstrap
Bootstrap Grid Systems
Building websites with Bootstrap
Bootstrap layout and plugins
Bootstrap layout
jQuery –
jQuery Get as well as jQuery Set
Events and effects
Introduction as well as Installation
jQuery selectors
Difference Between jQuery as well as HTML
jQuery Add/Remove
PHP –
Introduction
PHP as well as MySQL Installation
PHP Programming basics
Object-oriented programming in PHP
PHP as well as file uploads
PHP Email sending
Advanced WordPress Course –
Choosing WordPress.com vs WordPress.org
Creating Content
Organizing Content
Working with Media
Customizing your site
Managing Comments
Site Management
General Settings
Website Planning and Structure Design Overview
Learn Domain Name and Hosting Server
Reason to Choose us-
Experienced Trainers – However, learning with our Trainers in Patiala will help you to learn technology in industry standards.
Flexible Timings – We work round the clock, so if you need professional training you will find the specific trainers here.
Affordable Fees – In addition, our course fees is less compared to other quality Web development Institutes in Patiala.
8000+ students to believe – We already satisfied more than 8000 students in this training industry to believe our professional ethics.
Who can learn Web Development Course in Patiala?
However, any student who is familiar with some of the basic concept of Web Development wants to make a career in a development field can opt for this course. Moreover, knowledge in programming is again an added advantage which can help you to understand the concept of Web Development. Although, any programming knowledge is not mandatory as you can learn each and every concept very easily and you can learn all of it from the basic level with PIIM.
Hence, Book your Demo Class with us by Dialing – 9216041313
Other Courses –