PPC Course in Patiala – PPC is also known as Pay Per Click. It is an important module of Digital Marketing. It is one of the best platforms or techniques which is used to drive potential traffic direct to your website. However, you should know the full concepts of PPC in order to use it, because it is a chargeable method. Therefore, this is better to learn the PPC course from the Best PPC Institute in Patiala. PIIM (Punjab Institute of Internet Marketing) is known as the leading PPC Training Institute in Patiala. We are offering a wide range of PPC programs at our PPC Institute in Patiala.
All the training, we are providing on live projects with 100% job placement. Moreover, we allow all the students who joined our PPC Course in Patiala to learn the full modules of PPC advertising. After the end of the training, you can also get google certification provided by Google or our Institute. So, if you are looking to get PPC Training Institute in Patiala, then you can join PIIM.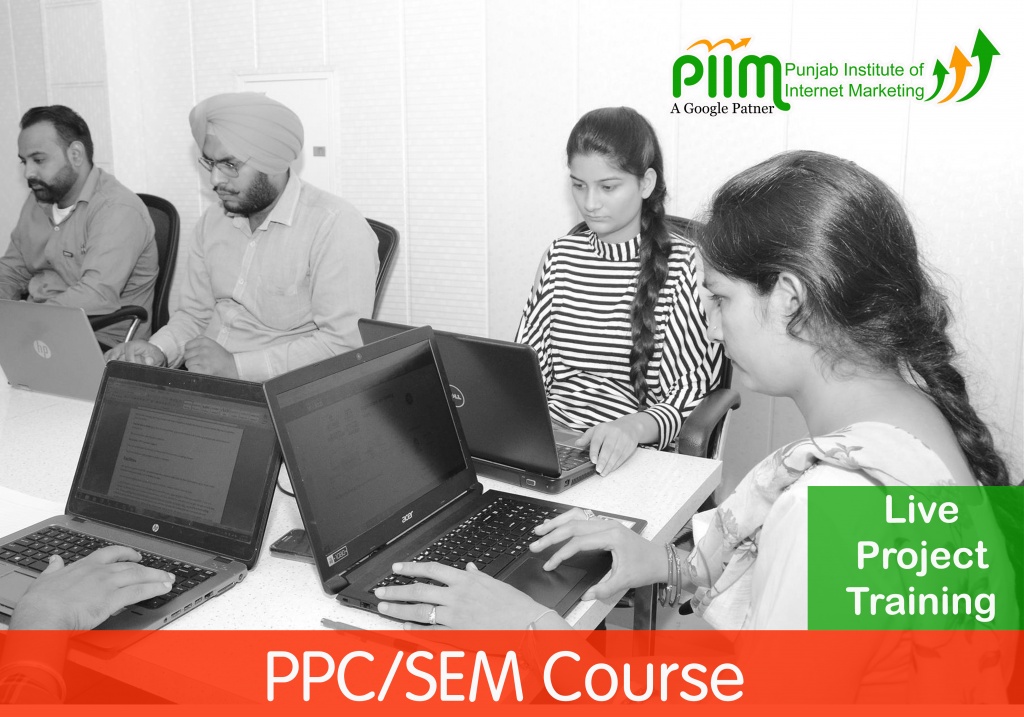 PIIM – ISO Certified Institute of PPC Course in Patiala
PIIM is an ISO Certified Google Certified Digital marketing institute in Patiala, Nabha, Rajpura, Samana, Sirhind, and other cities near Patiala. We are a team of experienced and professional Google AdWords experts. They will teach you properly how to use and take advantage of Internet Marketing and earn a good amount of money. By learning the full concept of PPC, you will be able to attract any client to your website and generate leads for your business. All you need to do is learn the digital marketing from the industry experts like us.
So, without any doubt, we would suggest you enroll for the PPC Course in Patiala today.
PPC Training in Patiala Lectures: AdWords Introduction-
In this lecture, you will get to know the basics of Ad words including all the terms and fundamentals-
Introduction of Google Ad words
Quality Score Guidance
Google Ad Words pricing modules
Bidding Works Management
What are Ad Groups, Campaigns, PPC Google?
Keyword Research Tool and Marketing
Pay Per Click Optimizations
Ad Rank and Help
Max CPC Teaching Exercise
PPC YouTube and other Google services
Keyword-
In this class PIIM will teach you how to complete keyword research strategy, creating campaigns as well as ad groups-
What are Keywords?
Types of Keywords?
How to Create a Campaign?
How to create Ad Groups?
Negative Keywords
Keywords match types
PPC landing page best practice
Targeting-
However, in this class, you will learn how to set up a campaign using custom targeting techniques-
How to set networks
PPC Network Reviews
Language as well as Device Targeting
Ad Scheduling but Setting Budget
URL Tracking
A/B Testing
PPC Audit
Ad Types-
In this lesson, you will learn how to create search, display and video ads-
Types of Ads in Ad words
Dos and Don'ts of ads
Ad policy
Split Testing of Advertising
Display Ads as well as Video ads creation
Mobile Ads
PPC Management software as well as services
PPC Income formula as well as earning
Bidding-
In this session, you will learn about various types and techniques of Bidding-
Bidding Schooling
Types of Bidding
Manual Bidding
First page Bid
Top page Bid
PPC Accounting Guidance
How Billing works
PPC accounting guidance
Complete learning for PPC Industries
Why PIIM for PPC Training in Patiala?
Focus on live projects during training
Certification after the completion of the course
Conducting Small batches as well as focus on every student
A module of PPC also covers the various techniques of billing and bidding
Conducive environment for learning
Knowledge of Keywords requirement for PPC, how to create campaigns as well as keyword research related topics
Hence, get Best Google AdWords PPC Course in Patiala at PIIM. However, don't wait to initiate the call to action for PPC Training and follow the success. Our training experts will assure you to make you an excellent Digital marketer who is perfect in working on PPC, Google Ad words as well as bidding techniques.
Don't wait and join PIIM today for PPC Course in Patiala and make your future bright in the field of Digital marketing.
Other Training Courses-
PPC Course in Patiala
PIIM offers the best training to students who want to settle up a career in Pay Per Click. Our students get every possible support to become wise and technically sound.
PIIM: A leading PPC Training Institute in Patiala
Our PPC campaign strategies are designed to meet the needs of every kind of business and their market condition. We teach our students up-to-date, Pay Per Click Techniques that include: Paid Search Ads, Video Advertising, Display Ads, PPC Remarketing and Social Advertising. This is the reason we become most trusted PPC/SEM Training Institute in Patiala, Punjab.
Learn Pay Per Click from Google AdWords Expert and Become an Expert in Digital Marketing
Masters Crafted Digital Marketing Course along with 6 Months Internships on Live Projects.
PPC, pay per click, also known also cost per link. This method is used to drive traffic to your website. In this method advertisers pay the particular amount everytime a person clicks on the ad. PPC helps to yield a high ROI.
We provide PPC training in:
Google AdWords
Bing Ads Centre/Yahoo
Facebook & Twitter etc.
8 Years+ Experienced Staff
Our Knowledgeable trainers, as well as our transparent teaching methods, are the few traits that makes us best. Our PPC Course Trainer has in-depth knowledge of the Field.
Live Project Training
PIIM, Digital Marketing Training Institute, gives students chance to explore more about Digital Marketing Industry by providing them the Live Project Training under the experts
12+ Certification
Every Student at PIIM, who opts Online Marketing Course in Patiala will be given 12 Certificates including Google, Yahoo and Bing after completion of the course.
Career Guidance
We are not Done after the student completes their Digital Market course. We give proper guidance to our students to make their career as Digital Marketer or Web designers.