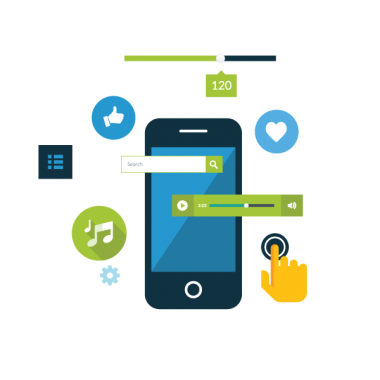 Mobile Marketing
Mobile Marketing – Become a Mobile Marketing expert in using mobile as a means of marketing communication. Master the art of mobile advertising, responsive designs, social media marketing and more.
Want to become an expert in using mobile and smartphones as the important concept of your marketing strategy, with the global marketing ad spend projected to surpass $40 Billion by 2018, mobile marketing has one of the fastest-growing sectors in Digital Marketing. Mobile Marketing is an important marketing strategy, representing the future of marketing.  Only 5% of companies today have an effective mobile marketing strategy.
PIIM-Punjab Institute of Internet Marketing is the global certification standard in digital education. Our Institute collaborates with global digital experts to define and develop the skills and qualifications required of today's digital professionals.
Trainer at PIIM have worked on various Mobile marketing strategies, due to this, we have the close view of this kind of marketing. As a leading Digital Marketing Institute in Patiala, we teach our students with a solid understanding of the various mobile marketing technologies and examine the media's rapid evolution and fundamental shift in how we access information today.
41%
Post Engagement Rate Increase
21%
Page Engagement Rate Increase
We provide a mobile strategy deployment, all backed up with practical examples as well as case studies and the latest research. In this course our Trainer will teach you-
Mobile First Design
Our Trainer will teach you a concept used in web design and the conception of websites. Based on this concept, an optimized version of mobile device is created.
Accurate Targeting
It involves addressing certain target groups on mobile devices. This ultimately increase the relevance for the user.
SMS Campaings
This marketing technique uses text messaging to spread brand awareness and specific marketing messages. It is the best way to reach to the potential audience in no time.
Tell us about your project
Let us help you get your business online and grow it with passion
Contact us and we will provide a Mobile Marketing strategy that will bring significant returns on investment.
"This is the best institute i ever had till now, specially for the Digital marketing course it is simply superb. We will get all self earning & job oriented topics practically in the class duration only. Money does not matter in this institute,we wil get sufficient time to pay.Particularly the teaching was awesome."
Swati Sharma
CEO & Founder
"good place to learn digital marketing skills."
Sundeep Singh
Phlebotomist
"This is the best place for those who want to learn the ABCD of digital marketing. Very practical oriented module make you perfect in the industry. I strongly recommend it to the student looking for digital marketing."
Narinder Singh
Executive Director