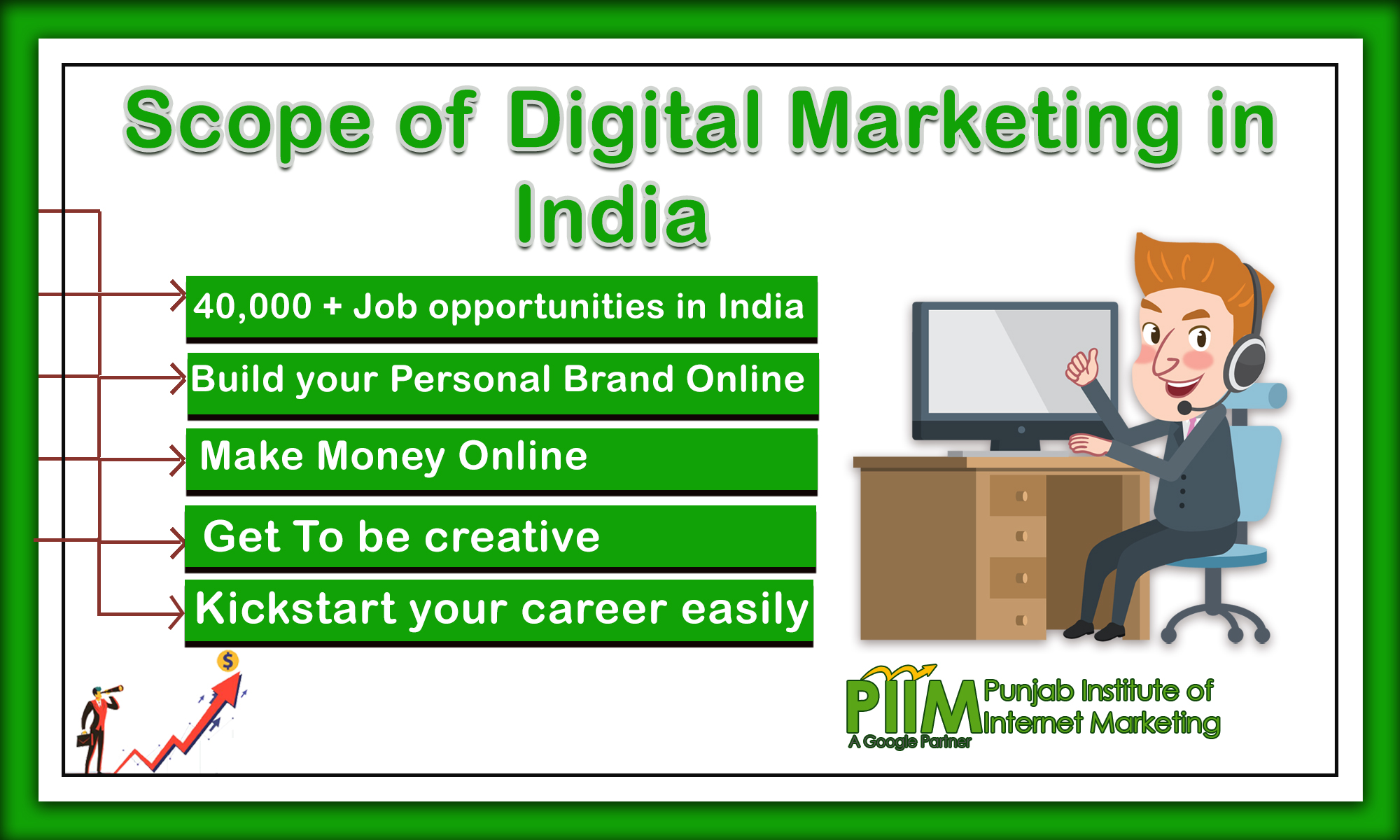 Scope of digital marketing in India -Do you know the future of digital marketing is booming all over the world especially in India? The year 2016 took the industry by given 1-lakh job opportunities in the digital marketing domain. Well, the following was a bigger surprise when only the first quarter of 2017 gave more than 8 lakh job opportunities in a digital marketing domain. Therefore, as a result, many people are looking forward to building a career in digital marketing. It is the fastest and reliable mode of marketing to target mass audiences. As we know, the digital marketing industry is growing on a daily basis that brings more opportunities to professionals in this country.
Scope of Digital Marketing in India | Following are the opportunities available for professionals –
Get a job in the industry – The simple way to start a career in digital marketing is to find a job related to this field. We have much different specialization so you have many options to start your career as –
SEO Executive
Digital Marketing intern
Google ads specialist
Content writer
Link building specialist
Scope of Digital Marketing in India –
If you asking from the career aspect the answer is yes. Check the ads it is shifting from TV advertising to digital media. It is a different medium available for marketers.
Become a professional blogger – Digital marketing professionals choose to blog as their professional career. They can generate income with advertising as well as affiliate marketing strategies.
Earn with AdSense – You can also start your website or App in a specific niche of your interest and work hard to increase your website traffic or viewers. However, after generating good traffic you can make a good income with Google AdSense technique.
Start freelance service – Freelancing service means giving your services to the clients on a part-time or a full-time basis. By sitting at your home or with the use of the internet, you can build your clients globally.
Start your own Company – If you have the experience to manage a business, then you can also start your own company. With the use of your digital marketing company, you can help your Clients, promote their business and earn money.
Higher paid profile –
The digital marketing profession is one of the highest-paid profile professions these days. Google says the average salary of Digital marketing manager is Rs. 4.5 lakh. However, 60% of professionals consider that certification leads them to get a good job in digital marketing. Hence, it is ideal to choose a digital marketing institute to be certified.
Digital Marketing Syllabus –
SEO (Search Engine Optimization) – It is an unpaid method of improving the ranking of the website and its visibility on various search engines like Google, Yahoo or Bing.
SEM (Search Engine Marketing) – Another method of increasing the ranking of the website is through sponsored advertisements. SEM should know how to run PPC campaigns or how to decrease CPC.
SMM (Social Media Marketing) – It is a method of gaining a lot of popularity with social media sites like Facebook and Twitter. A Good SMM Manager knows how to increase the power of social media to create your business as a brand.
E-mail marketing – It is important to engage your customers with your brand. Therefore, many organizations or companies send their e-mail campaigns to their subscribers to keep them updated with their products or offers.
Mobile Marketing – Today smartphones become trendy among all age groups. Therefore, mobile marketing is the best way to provide instant updates and offers.
Web analytics – It is a very important aspect of digital marketing. However, it involves business analysis, website traffic, and market research to increase the ranking of the website or get website traffic.
Scope of Digital Marketing in India – Now the question arises is how much you can earn?
So here, comes the answer of the most common search question about digital marketing as a career. However, the salary depends upon each individual's skills or performance as well as the type of your company you are working and your role.
Role
Digital Marketing Manager – Salary 5 to 10 lakhs-/-
SEO Manager – Salary 3 to 5 lakhs -/-
PPC Expert – Salary 3 to 6 lakhs -/-
Web Designer – Salary 3 to 5 lakhs -/-
Web Developer – Salary 3 to 5 lakhs -/-
Social Media Manager – Salary 5 to 7 lakhs-/-
Content writer – Salary 2 to 4 lakhs-/-
Scope of Digital Marketing in India in the upcoming years?
Scope of Digital Marketing in India – Digital marketing is still in the beginning phase in India. Because most of the companies are still thinking too about this digital medium while many companies have already used its campaigns. As we know that, there is a large number, of the youth population, is present in India and this technology attracts the youth. Therefore, companies find this medium as an effective technology to target their audience based on their interests, age, behavior or location. Thus, we can say that the scope of Digital Marketing will get a big change in the coming future.
Join PIIM and start your career in this trending technology –
If you would like to excel in the field of digital marketing, then you need to get some skills. These skills will make you differ from the rest. Now the question arises is that from where you can get these skills right? Then your answer is PIIM (Punjab Institute of Internet Marketing). It is one of the leading Digital Marketing Training Institute in Patiala, Punjab provides all the skills and training like SEO, PPC, SMO, search engine marketing, social media marketing, content writing, etc. that will put yourself in a better position in the field of digital marketing. They are providing you with live project training and cover all 30+ modules within 3 months. So that after completion of your training you will get a secure job with a handsome salary.
Thus, why are you waiting for? Be a part of this trending industry and let us explore and shine your career in the digital field and secure your future.